How much does a Seakeeper cost?
If you've been looking at the cost of a Seakeeper on our product pages, you probably noticed the little note that says, "not including installation." So, what is the all-in cost of one of these anyway? Well, that's a tricky question to answer because it depends on a few factors.
FROM THE BOAT BUILDER
If you're looking for a brand-new boat equipped with a Seakeeper, you'll be happy to hear that Seakeeper works with nearly every major boat builder around the world. There's a good chance you can get a Seakeeper installed right from the factory. Check out our comprehensive list of boat builders that offer Seakeeper as standard or optional equipment. In fact, over 75% of our installations are completed by boat builders on new boats where Seakeeper is offered as standard equipment or a factory option. The total price of a Seakeeper directly from a manufacturer will range from builder to builder, so your boat manufacturer can give you the most accurate quote for the Seakeeper add-on. Some builders, such as Sportsman, make life easy and display their option pricing on their build-a-boat pages.
REFIT INTO MY EXISTING BOAT
Already have a boat that you're looking to refit with a Seakeeper? Great! There are just two parts to consider before you're stabilized and cruising on the water.
COST OF THE UNIT
This part's easy! You can find the unit-only price of each of our units on our Seakeeper Products page. The price of each unit even includes a 2-Year Factory Certified Warranty, so you can rest easy knowing you're covered. If you want more coverage, we have several extended warranty options too!
COST OF THE INSTALL
Now, here's where things can vary because no installation is the same. The actual cost of the installation can depend on three factors:
Access – How straightforward or challenging will it be to get the Seakeeper into its new home? Does it need to get all the way into the engine room, utility room, or lazarette? How much room do we have to work with there? Does a hatch need to be enlarged to fit the Seakeeper? The more difficult it is to access or create the space that's needed to house the Seakeeper, the more time and costs associated with the installation.
Building the Structure – Many boats (even the ones that don't get a Seakeeper during construction) are built with a Seakeeper in mind! These boats are built "Seakeeper-ready" with the designated space and structure already in place for a Seakeeper refit down the road when the first, second, or third owner ultimately decides to install a Seakeeper! Every installation requires a solid structure connecting the Seakeeper to the boat so that it can handle the loads that are output by the Seakeeper. Building the structural foundation for the Seakeeper is another significant component of the installation cost.
Selected Dealer – We have trained and experienced Dealers around the globe who each have their own labor rates that may vary based on the Dealer's operations or costs of operating in a given market. Rest assured that all our Dealers are Seakeeper experts, and they'll take great care of you and your boat. Visit our Dealer Map to choose the Dealer you want to work with.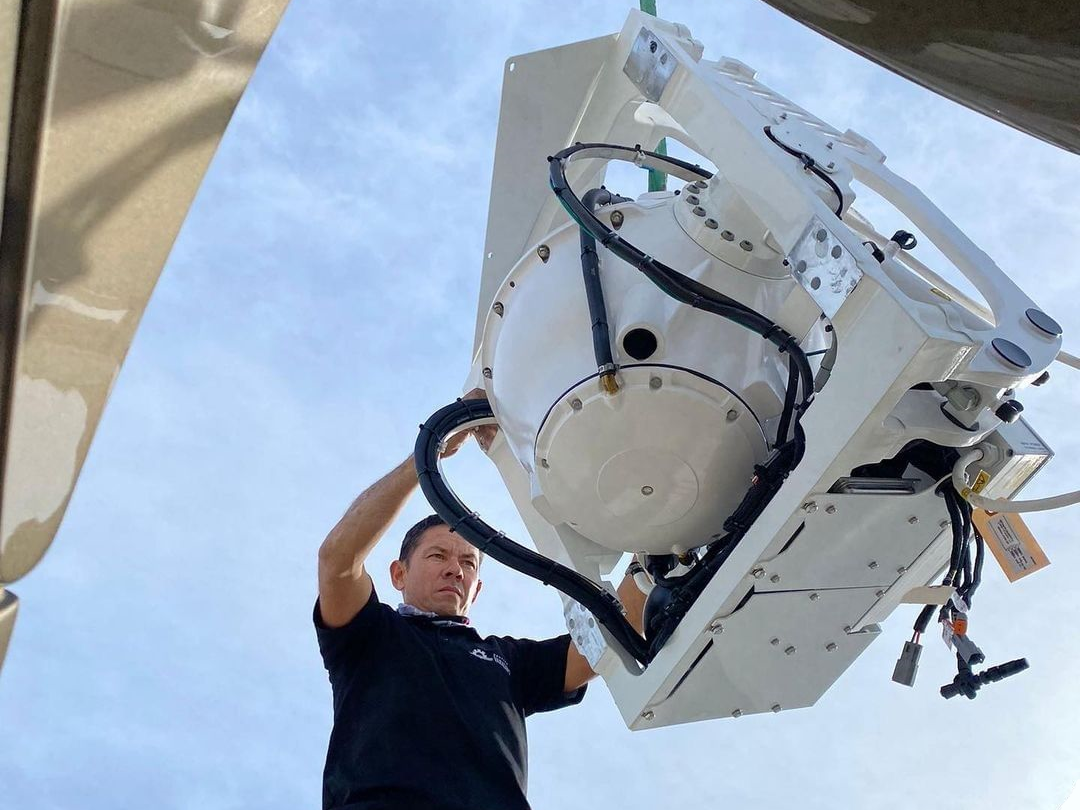 A Seakeeper 6 refit on a SportRiva 56 in Ibiza, Spain by Seakeeper Dealer Náutica Varadero.
ROUGH ESTIMATE
Even though we can't give you an exact cost, we can give you a good idea of how much a Seakeeper refit may run on your existing boat. You can find the price of a Seakeeper on our Products page, and the budgetary installation cost in the chart below! Labor rates may vary significantly from one market to the next, so we've broken down estimated costs by geography below.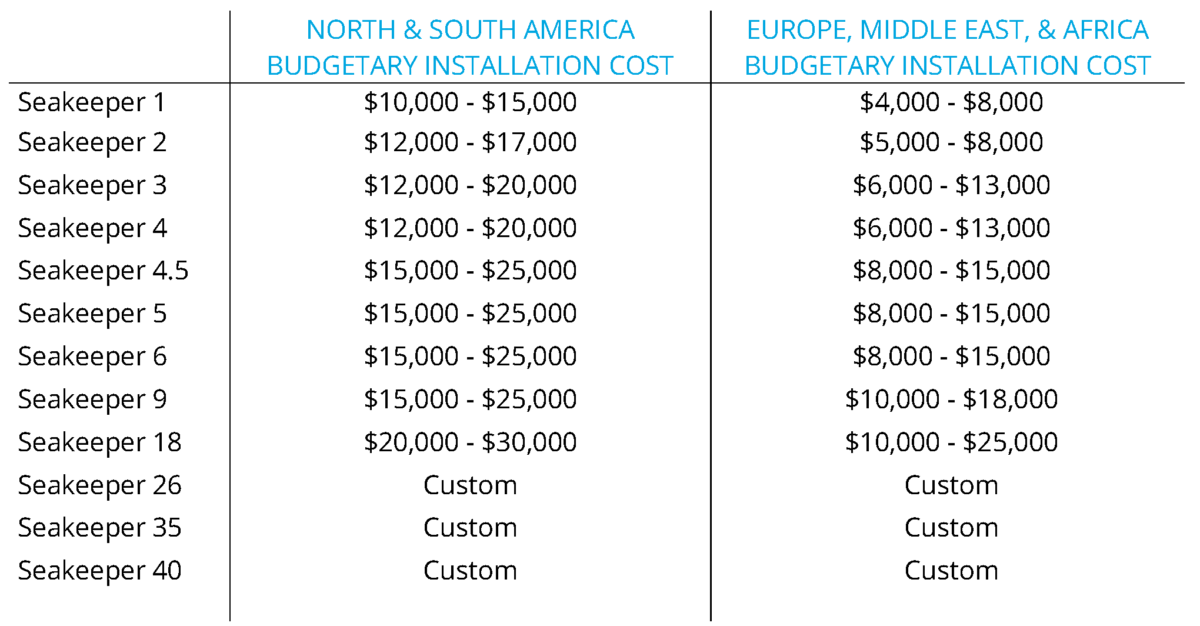 *North and South American prices are shown in US Dollars. EMEA prices are shown in Euros.
**Prices exclude taxes, storage, docking, haul-out, or other costs not directly related to the Seakeeper installation.
Ready to transform your boating experience? Search our Manufacturer Standard/Optional Database for a new boat, or visit our Dealer Map to find the Dealer(s) nearest you for a personalized refit quote!