Will Seakeeper connect to my MFD?
Dash space is a hot commodity, and it can fill up fast with all the electronics and tools available today. Luckily, your Seakeeper control interface doesn't have to take up valuable real estate on your helm station.
We've teamed up with Garmin, Raymarine, Navico, and Furuno to free up dash space and allow you to control your Seakeeper through a compatible multifunction display (MFD).
COMPATIBLE SEAKEEPER HARDWARE
Depending on your Seakeeper model, the unit will come with either a ConnectBox (Seakeeper 1) or a 5" Touch Display (all other models). Owners of ConnectBox units can purchase the 5" Touch Display if desired.
ConnectBox
The ConnectBox is integrated right into the Seakeeper's top cover, acting like a go-between that allows the unit to communicate with compatible MFDs. The ConnectBox requires a connection to a compatible display and the vessel's NMEA 2000 backbone with an active GPS signal for Seakeeper operation. The Seakeeper will monitor information on the NMEA network to support and optimize performance.
5" Touch Display
If you have a compatible MFD, the 5" Touch Display can be mounted in a remote location, like the engine room, freeing up space on the dash. Using the 5" Touch Display with an MFD requires a connection to the Seakeeper and the compatible MFD utilizing a specialized cable. The 5" Touch Display needs to be mounted at the primary helm station when there is no compatible MFD to connect to.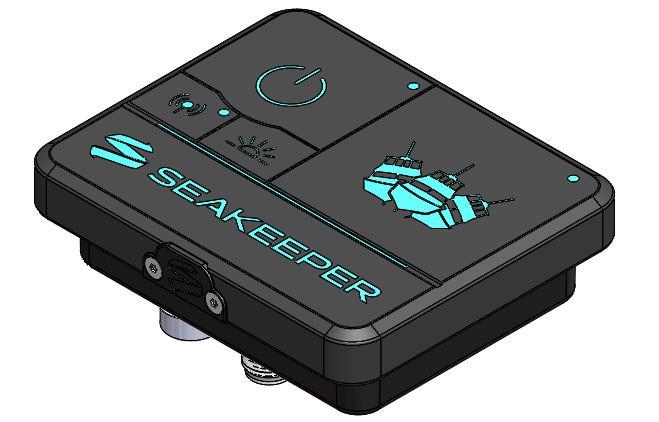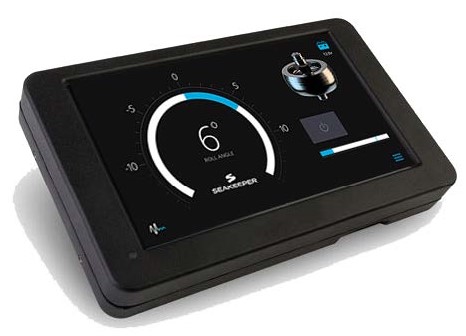 Once your Seakeeper is connected to your MFD, controlling and monitoring your unit is as simple as opening the Seakeeper App on your multifunction display.
IS MY MFD COMPATIBLE?
There are more than 100 multifunction displays that are compatible with Seakeeper! Below is a list of compatible MFDs from Garmin, Raymarine, Navico, and Furuno.
| | |
| --- | --- |
| Garmin Hardware | GPSMAP Series 84XX, 86XX, 7X2 Plus, 7X2xs Plus, 9X2 Plus, 9X2xs Plus, 12X2 Plus, 12X2xsv Plus |
| Raymarine Hardware | Axiom, Axiom+, Axiom PRO, Axiom XL |
| Navico Hardware | |
| Simrad | NSO Evo2, NSO Evo3, NSO Evo3S MFD, NSO Evo3S MPU, NSS Evo3, NSS Evo3S, GO7 XSR, GO9 XSE, and the GO12 XSE series units |
| Lowrance | Elite FS, HDS Carbon, HDS Live |
| B&G | Vulcan 7, Vulcan 9, Vulcan 12, Zeus3. Zeus3S, Zeus3 Glass Helm, Zeus3 Glass Helm MFD, and the Zeus3 Glass Helm MPU series units |
| Furuno Hardware | TZT9F, TZT12F, TZT16F, TZT19F, and TZT2BB series units |
WHAT IF I HAVE MORE THAN ONE SEAKEEPER?
Controlling multiple Seakeeper units is simple with a compatible MFD. All you need is the port expander or network switch for your MFD brand, and a unique Seakeeper ID for each unit on board. Once connected, the Seakeepers can all be powered on, locked, and unlocked on one screen, saving precious dash space! Toggle arrows at the top of the screen can be used to navigate to each Seakeeper's respective home screen, where specific details for each unit can be found.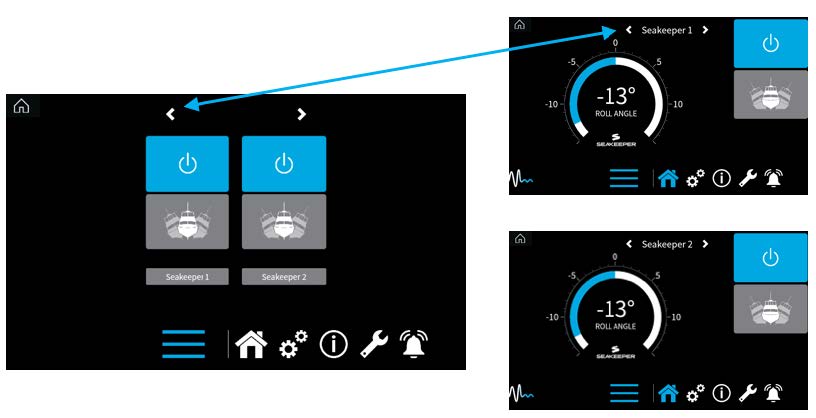 THE NITTY GRITTY: SOFTWARE REQUIREMENTS
Seakeeper 5" Touch Display: Software 7.29.1 or later for Garmin and Raymarine, 7.40.0.1951 or later for Simrad, Lowrance, B&G, and Furuno
Seakeeper ConnectBox: Software 1.2 or later
Garmin: Software 10.00 or later (OneHelm Required)
Raymarine: Software 3.7.70 or later
Simrad: NSO and NSS Evo3 models: Software 20.1; NSS Evo3S: Software 20.0.2; GO models: Software 20.0.1
Lowrance: Software 20.1
B&G: Software 20.0.1
Furuno: TZT9F: Software initial version; TZT12F, TZT16F, and TZT19F: Software v1.08 and later; TZT2BB: Software v7.01 and later
READY TO GET CONNECTED?
If you have one of the compatible MFD's listed above, and you're ready to connect it to your Seakeeper, the only thing you need to do is contact your local Seakeeper Dealer! Our global Dealer network is standing by, ready to install your Seakeeper and connect your compatible MFD. Find your local Dealer.
LOOKING FOR MORE?
Find more details for your specific MFD in our Technical Bulletins.
TB-90478 – Garmin and Seakeeper Compatibility
TB-90479 – Raymarine and Seakeeper Compatibility
TB-90480 – Navico and Seakeeper Compatibility
TB-90598 – Furuno and Seakeeper Compatibility